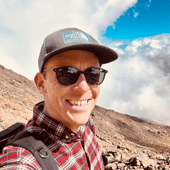 Max Hjalmarsson
Chief Executive Officer – Sales & Operations
What is the best thing about working in the startup world?

The startup world suits me better because of the constantly changing environment, new challenges, ability to always work with the latest technology, and especially all the driven and creative people.
What do you do in your work role, and why does this suit you well?
I am responsible for making Airpelago a great place to work. Suppose people love the job they do better. I am also responsible for business growth and making strategic decisions. I think the role suits me as I am interested in bridging technology and business initiatives. Together with my skill set and background, this role is the perfect match!
How would you describe the Airpelago team?
Exuberant, intelligent, and ambitious. Everyone enjoys a great laugh, and perhaps too many of us enjoy playing golf.
How would you describe the perfect colleague?
Someone that is helpful and spreads positive energy, and is open-minded about new solutions.
More about Max
I am passionate about everything that flies, and I love being able to work within the aviation field and, at the same time, with a clear contribution to a greener world. The power grid is essential for the transition of our society to more renewable energy sources throughout all industries and parts of our everyday life. This is rewarding in itself, but working with phasing out helicopters adds further to this esteem.